Prince Lorenzo de' Medici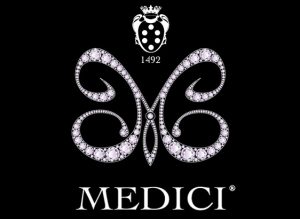 Many people claim to be Renaissance men and women, but Prince Lorenzo de' Medici is the real deal. If the name rings a bell, it's because Prince Lorenzo is a direct descendant of the historic House of Medici, the dynasty that underwrote the Renaissance, bankrolled Columbus' expedition to the New World and invented our modern banking system. Now, he is placing the family name front and center again through his art, dubbed "Renaissance Pop," reviving the images of his famous ancestors with contemporary paintings that express "the Medici family's lasting legacy in the civilized world" through international art exhibitions.
The 44-year-old prince was born in Catanzaro, Italy, in the region of Calabria. His late father, Alessandro de' Medici, traced his lineage to the famous Florentine family. His mother, Kristina Kuharska, comes from a long line of Polish royalty and inspired young Lorenzo to apply himself to charitable causes. Lorenzo grew up in the Medici family palazzo in Martirano.
Among his ancestors, the prince counts three Popes — Leo X, Clemente II and Pius IV — and two French queens — Mary and Catherine de' Medici. As a member of one of the top 10 most globally influential families and a noted philanthropist, he lives by the dictum, "Let's make the nobility a useful service to the less fortunate." To accomplish this, his idea is to use venture capital to fund philanthropic enterprises.
Prince Lorenzo's charitable contributions and voluntary activities include nonprofit projects in Zimbabwe, AIDS awareness campaigns through the Foundation for AIDS Research (amfAR) and support for Cold Spring Harbor Laboratory, a private, nonprofit institution with research programs focusing on cancer, neuroscience, plant biology, genomics and quantitative biology guided by Nobel Prize laureate James Watson. He is also a Knight of the Martirano Order and General Prior of the St. Martin of Beatitudes Order, and he directs one of the most beautiful Roman basilicas, the Church of San Silvestro al Quirinale.
Never one to rest on his laurels — or his heritage — Prince Lorenzo speaks five languages; holds three master's degrees (in finance, fashion design and luxury goods, and international business communication); collects and designs high-performance luxury vehicles; invests in art, agriculture, olive oil and wine production, real estate and other ventures on an international scale; and is a superb cook who enjoys making the centuries-old Italian recipes his family originated. He manages his family's private office, which includes a billion-dollar venture capital portfolio and one of the world's most prestigious art collections.
True to his roots, he also is working to revive the Medici banking tradition. In 2020, partnering with financial leaders formerly at American Express and Germany's online Fidor Bank, he launched Medici Bank in the U.S. This digital-only bank serves small and midsize international businesses in a tech- and crypto-friendly way and has been hailed as one of the most innovative banks on the planet.
Prince Lorenzo loves nothing more than to inform, educate and entertain live and virtual audiences with his presentations on art, finance, food, fashion, architecture and more, all while pulling the curtain back on 700 years of family secrets. With his charming Italian accent and fun-loving demeanor, this larger-than-life trendsetter engages his attendees with legendary "insider info" they will never hear anywhere else: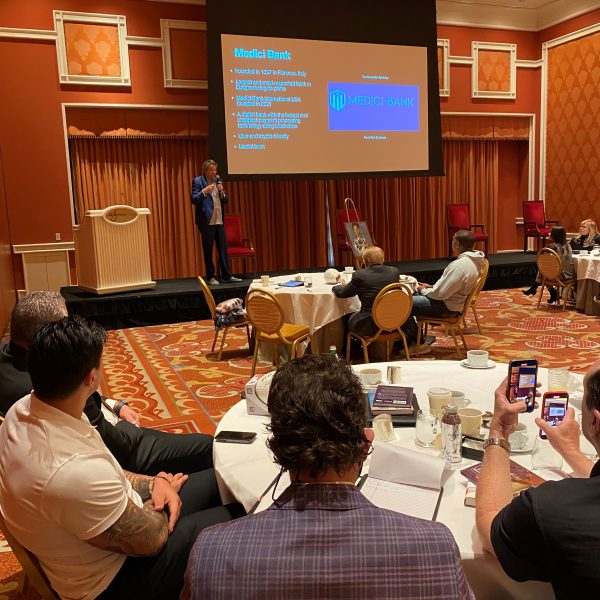 Da Vinci was a vegetarian
Michelangelo was a free spirit
The Medici family created lasagna, tiramisu, and gelato
The Medici family invented branch banking, letters of credit and the checking system still in use today
The Medici family established the game of football
Catherine de' Medici brought haute cuisine, perfume and table etiquette to France
And many other aspects of how the visionary Medici family left its mark
A number of successful recent TV series featuring Prince Lorenzo and his ancestors have been keeping the Medici name in the public eye and fueling interest in the family's history and contributions:
Reign (TV Series 2013–2017) – IMDb
Medici | Netflix Official Site
Da Vinci's Demons (TV Series 2013–2015) – IMDb
The Serpent Queen: What to Know About Starz's Catherine de Medici Series
Prince Lorenzo de' Medici resides in Rome and Los Angeles. He is available to speak to audiences anywhere in the world.