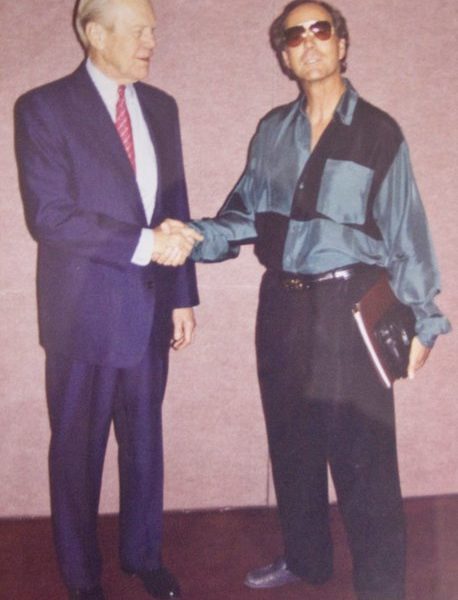 President Ford Never Fell Down On The Job When It Came To Public Speaking
Certified Meeting Planners and Event Planners, we are celebrating our 42 year anniversary and I can state emphatically that booking Past Presidents of the United States will always make you an election winner with your clients. We have booked every past president of the U.S. beginning with President Ronald Reagan.
President Gerald R. Ford, the 38th President of the U.S., never fell down on the job when it came to public speaking. He became a close friend. I was honored to book him many times. Audiences adored him. As a meeting and event planner, when you book a Past President of the U.S. it creates such an exciting atmosphere for your group. Usually you can arrange a special meet and greet for your VIPs, and stage a photo session with the Past President that will delight your attendees. Those photos will be cherished and treasured by your audience participants.
Let me share an idea with you for a future event. Here is an experience that I encountered. I was approached by the City of Mesquite, Nevada. They wanted to stage a gala event. Mesquite is 80 miles from Las Vegas A small town. When they contacted me, very few people ever heard of Mesquite, Nevada. I recommended an all day event, anchored by booking a Past President of the U.S. I knew that if I could book a Past President, the city of Mesquite would draw international publicity and attention. They green lighted my idea. I was able to book President Gerald R. Ford, and I also booked heroic F-16 Pilot, Scott O'Grady, who was shot down in Bosnia; Olympic decathlon gold medal winner Bruce Jenner; Cheryl Landon, eldest daughter of Michael Landon; and for the evening I locked in legendary Rich Little. The entire day was spectacular. After President Ford's scintillating talk ended, the Secret Service jumped to the stage, to whisk him away to the limousine. President Ford halted them and said, "I'll bet this wonderful audience has some questions for me." Indeed he stayed for nearly one hour to the delight of the crowd. The bottom line to this extraordinary booking, is that the certified meeting planner wrote me after the festivities had ended, and said that he was now a hero in Mesquite. He said it was the best decision of his life to book President Ford. So keep this in mind. Booking a past President can spark your future business conferences, sales meetings, management meetings, corporate parties and banquets, and business retreats to new heights of glory!!!!
I had the privilege and honor to book President Gerald R. Ford and his lovey wife Betty Ford, for a dazzling paid appearance in Michigan for General Motors. President Ford was born in Michigan and played on the University of Michigan football team. I had an idea for the event planner at General Motors. I suggested that on the stage where President Ford and Betty Ford would conduct their presentation, that at the end of their exciting talk, the President of General Motors would come to the podium and announce that he had a surprise for the audience. In back of the curtain, were a dozen brand new GM cars that were being unveiled for the first time. Naturally the crowd was ecstatic, and tv film crews and newspaper photographers captured captivating photos of President Ford and Betty Ford, with the new cars. This resulted in international publicity coverage. My idea with the event planner worked beyond our wildest dreams. So this is another area for you to think about for your future events in 2017.
President Ford was a proud Eagle Scout, and also served in the Navy. So I decided to combine both achievements, by booking him with a huge audience in Washington DC that combined military veterans and Boy Scout leaders and Boy Scouts. I brought this idea to the Certified Meeting Planner who worked at the Pentagon in the nations Capitol. I am a Vietnam Vet '68. So this was a very special memory for me. The event planner received a promotion for staging this glorious meeting.
So my message to Certified Meeting Planners and Event planners is to consider booking a Past President. The budget may be high, however the results and the benefits will make you smile. That is why I always jump backflips when I book a Past President of the U.S.