GEORGE J. CHANOS

FORMER NEVADA ATTORNEY GENERAL, AUTHOR, PUBLIC SPEAKER, FUTURIST
"The International Franchise Association selected George Chanos to lead the 2020 Franchise10x keynote program during its annual convention. George's inspiring and engaging talk focused on the disruptive forces challenging the status quo of today's business environment and the skills needed to thrive in this new paradigm.  He invited the attendees to consider the groundswell of impending change and its impact on society as we know it. His message was incredibly timely and important."

John Teza, Principal

NRD Capital Management, LLC
In November 2012, former Nevada Attorney General George J. Chanos, Esq. suffered a major heart attack. His brush with death left him resolved to prepare his daughter and nephew for the future. His research, on their behalf, resulted in the 2016 publication of his first book, "Seize Your Destiny: Choices That Lead to a Happy, Successful, and Meaningful Life." Further research and analysis of the social, economic and political changes likely to occur over the next 30 years as a result of the technological revolution led to the publication of his newest book, "Millennial Samurai: A Mindset for the 21st Century."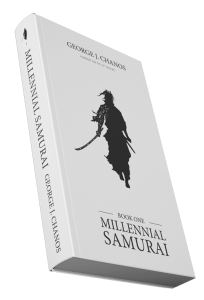 "Millennial Samurai," which surveys what Chanos describes as an unprecedented convergence of promise and peril, is designed to prepare millennials (and their parents) for a technological tsunami that will create rapid and unprecedented change.
While experts and pundits focus on individual talking points, Chanos connects divergent data points, creating an awareness of the future that encourages readers to look at the big picture, addressing topics as varied as artificial intelligence, technology and employment, economic inequality, fake news, tribalism, the malleability of the human brain, political dysfunction, collaboration and unity.
His core message is success and survival in the 21st century will require critical thinking, life-long learning, constant reskilling, continuous adaptation, a fidelity to core values and recognition of humanity's profound interdependence.
George J. Chanos, Esq. served as Nevada's 31st Attorney General from 2005-07. In that role, he administered Nevada's Department of Justice and acted as the state's chief legal officer and advisor. He also successfully (9/0) argued ― Warton v. Bockting, 549 U.S. 406 (2007) ― before the United States Supreme Court.
Prior to serving as Nevada's attorney general, Chanos had a distinguished legal career, representing individual and corporate clients on all matters relating to the growth and management of their businesses.
He currently serves as chairman of the board of Capriotti's Sandwich Shop, Inc. With 110 stores in 19 states, Capriotti's is one of the fastest growing quick service/ fast casual restaurants franchises in the country.
Chanos is a fascinating and engaging public speaker, an original thinker who intrigues his audiences with fresh concepts and realistic strategies for dealing with the massive changes — and opportunities — that younger generations will be dealing with every day.