JACKIE KALLEN

"Your Celebrity Connection to the Stars"
Since the 1970s, award-winning journalist Jackie Kallen has interviewed the kings and queens of entertainment royalty, from Elvis and Sinatra to the Beatles and Michael Jackson. As a teen, the Detroit-born Kallen invited the Rolling Stones to her home for lunch —and they accepted! She did a Q & A with Paul McCartney in his backstage dressing room and made her mark as the most accomplished female in the history of the boxing industry, guiding the careers of more than a half dozen champions including James "Lights Out" Toney and Pinklon Thomas. Her legendary exploits made her the focus of the Meg Ryan film "Against the Ropes," and she appeared as a regular on the NBC show "The Contender" with Sylvester Stallone and Sugar Ray Leonard.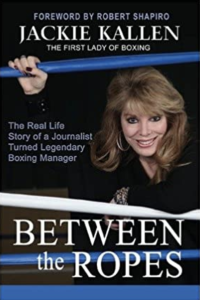 Jackie has won numerous awards, was inducted into the World Boxing Hall of Fame, and has written two successful books: "Hit Me with Your Best Shot" and "Between the Ropes." She has been featured nationally on "The View," "The Today Show," and "The Jon Stewart Show," and has been the subject of articles in prestigious publications such as The Wall Street Journal, The New York Times, The L.A. Times, Sports Illustrated, and many more.
An accomplished and dynamic public speaker, Jackie has crossed the country and Canada too many times to count, presenting her inspirational and motivational speech, "Charisma, Creativity and Celebrities," which is about believing in yourself, taking the path less-traveled, being fearless, and making the most of every day.
Jackie also addresses issues of health. She has bounced back from four heart stents, glaucoma, sleep apnea, and melanoma. With her boundless energy and positive outlook, she is a mother, a grandmother, and an advocate for getting older without getting old.
Testimonials
"Jackie Kallen was absolutely fantastic. She had a room full of women standing and cheering. They hung on her every word and were mesmerized by her wonderful stories. I highly recommend her."
Gail Dauer, President: The Crown Jewels
"Jackie is a very special person, and very inspirational and motivational. Everyone at the North Lake Highlands Youth Boxing Gym was extremely excited to have her and they can't wait for the opportunity to have her back again. She rocked it!"
Sandra Breslow
"As Executive Director and President of the National Parking Association in Washington, DC, I was extremely honored to have Jackie Kallen as a keynote speaker at our annual trade show and convention. She was the perfect beginning to a most successful meeting. Simply a knockout!"
Marty Stein
"The message that resonated with me was finding exactly what it is you're good at and be the absolute best at it. Seeing how hard she worked, and the amount of time and energy she put into what she was doing, really showed me there's so much more I could be doing in my personal life. It showed me you can always do more, and go that extra mile and be relentless about your passion. Jackie is just overall an amazing, interesting soul and I'm so happy to have had the opportunity to listen to her stories."
Jayli Fimbres: Mandan, Hitdatsa and Ariksra Nation of North Dakota
"I absolutely loved Jackie's inspirational talk. She caught my attention after only listening for two minutes, and that's rare. Her speaking is amazing and if you're a person who's endured any type of pain or trauma in your life, this woman is someone you could talk too. What I admired the most is how she told everyone to BE THEMSELVES!
The next day I had the pleasure of genuinely talking to her and sharing a short part of my life with her and some of my trials and tribulations that I have been through as a Native American woman. Jackie is honestly a one-of-a-kind, humble, beautiful woman inside and out.  I look at life as " everything happens for a reason and you meet people for a reason " I can honestly say I am honored to have met such a wonderful person. I believe in being a real person and real sees real."
Brandy Garcia: Grit and Grind Boxing