PATRICIA ELTINGE

DREAM BOOK AUTHOR . SPEAKER . DREAM ANALYST
Find out what your dreams are telling you in order to facilitate personal growth, greater prosperity, healthy relationships and vital health!
MAIN AREAS OF EXPERTISE
Acclaimed and widely reviewed author of The Dream Class
Dynamic Speaker to Corporate, Associations and Private Groups
26 Years Expert Dream Reader to Celebrities and Executives
Extensive Workshops/Training of Dream Analysts
Alternative Healing Facilitator/Medical Advocate
Certified Transactional Analyst
WHAT AUDIENCES GAIN

Learn how to capture your dreams.
Understand your recurring dreams and nightmares.
Recognize what your dream symbols mean.
Interpret your dreams in light of your waking life circumstances.
Grasp the message of your dreams to resolve issues related to finances, business, personal relationships, health issues, creativity.
REVIEWS
Patricia Eltinge explains dream complexities simply and elegantly to audiences. She has helped countless sincere seekers of self-knowledge through her talks and training by showing how one can use dreams to know at the deepest levels what they really want and what they don't want.
Dr. Pat Allen, Author/Psychotherapist/Talk Show Host
Patricia Eltinge's vitality and soulful aliveness can be felt in every one of her talks. My audience and I loved having Patricia on my talk show! She is a blessing to dreams and dreamers everywhere—which leaves no one out.
Kelly Sullivan Walden aka Dr. Dreams Bestselling Author, It's All in Your Dreams | Talk Show Host
Patricia Eltinge's thoughtful and insightful presentation on the power of dreaming is very effective in her teaching workshops. Her unique and comprehensive understanding of dream images and her ability to teach the process of understanding the symbols in your dreams is priceless.
Dr. Carder Stout, Ph.D. Author, What Dreams Mean
Speaker/Author Patricia Eltinge does a wonderful job of imparting the methods analyzing dreams, thereby helping professionals and ordinary folks to reach the deepest levels of their being and thereby facilitate our mutual evolutionary journey of consciousness and happiness.
Dr. Joseph K. Kim, OMD, Ph.D. Author, Yin and Yang of Life
ABOUT PATRICIA ELTINGE'S BOOK!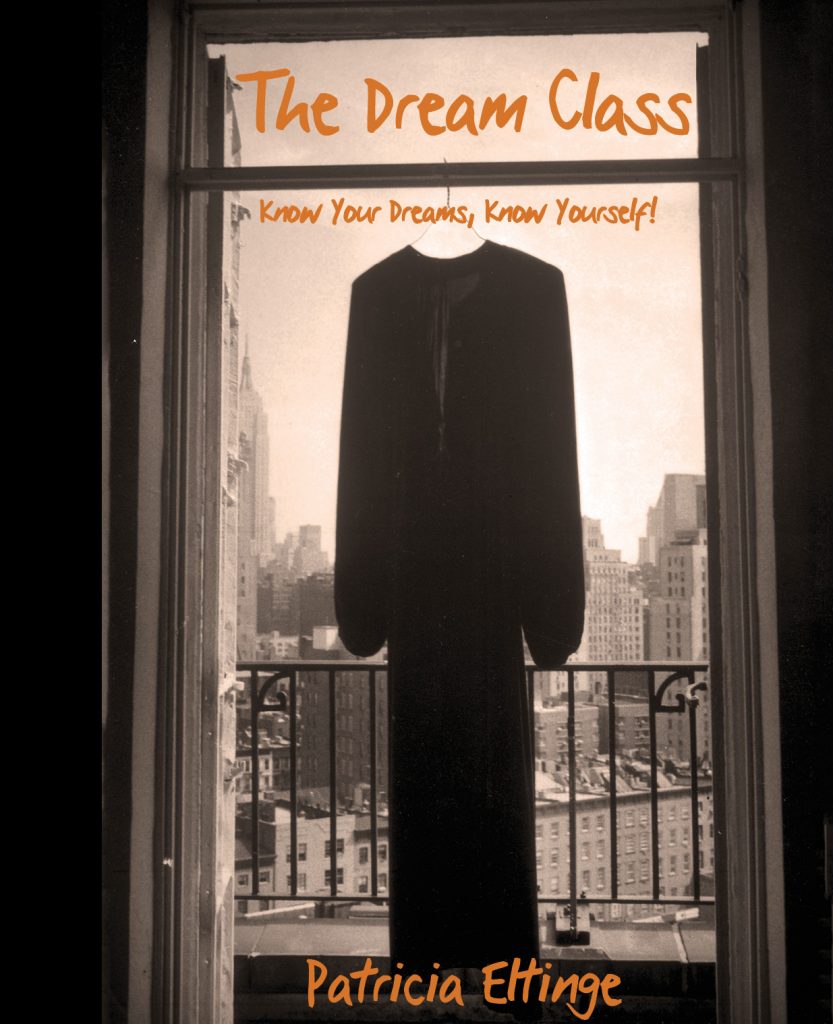 The Dream Class is a summation of the 25 years Patricia Eltinge spent studying under Dr. Pat Allen, the world-renowned psychotherapist whose pioneer work on new avenues in dream analysis is contained in this book. All of us dream and the process of capturing our dreams and looking deeply into their meanings is of great benefit to anyone interested in their own unconscious mind. The wonderful source of personal and universal information that is available to us from these other dimensions can be transformative and of great practical value in our daily lives. The Dream Class provides easy yet profound methods to help individuals delve into the revelations that are presented to us through our dreams. Click here to buy the book.