TSHANE JOHNSON

MOTIVATIONAL SPEAKER – ENTREPRENEUR – AUTHOR – PUSHUP WORLD RECORD HOLDER – MARINE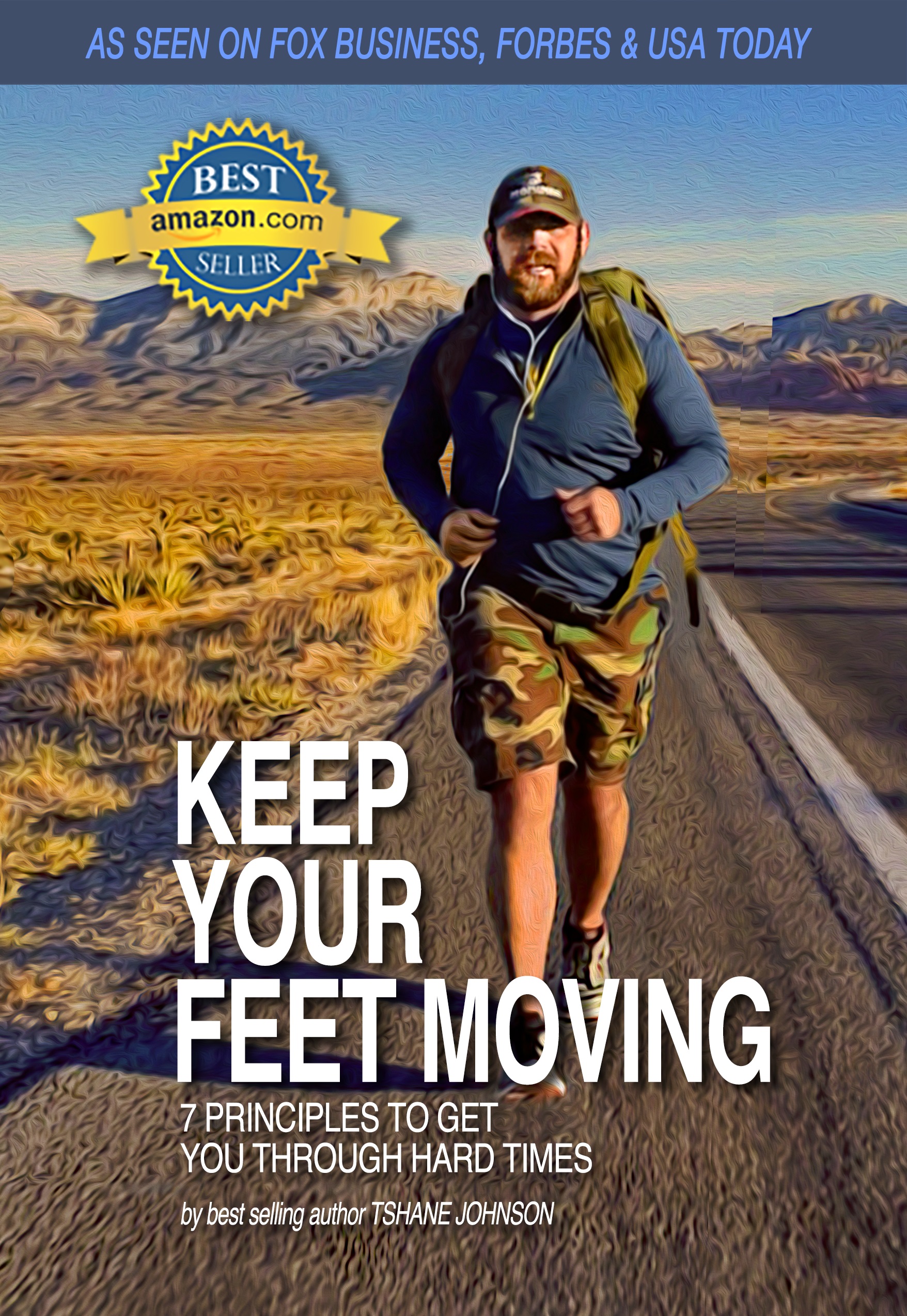 TShane Johnson is a nationally-known motivational keynote speaker, number one bestselling author, life coach, sales coach and holder of the world record for most pushups in one hour—3,050. TShane runs more than 3,000 miles across America every year, speaking in over 20 cities inspiring the homeless, businesses, corporate America, veterans, and the American people, all while running three businesses, feeding the homeless, and making time for his family in addition to helping direct his documentary, "3,000 Miles for YOUR WHY." He is a Marine Corps veteran, father, mentor, and coach while still running a company with annual revenue of more than $36 million.
TShane has had numerous speaking and coaching engagements including LSU, University of Central Florida's College of Business, GoDaddy, Caesar's Entertainment, Red Bull, UPS, Veterans Voice, and Clean the World. He has shared his inspiring message with major media outlets such as USA Today, IHeart Radio, WLOX 13, ABC 13, Real Radio 104.1, KLBK 13, Fox34, the Tallahassee Democrat, Panama City News Herald, Orange Observer, and the Daily Record.
"I am passionate about what I do, and in helping others find the process and plan that will work for their individual or organizational needs. I have overcome being homeless, broke, losing everything, and dying three times. I don't just succeed in my own businesses and sales; I launch others to success and celebrate with them because I AM them." – TShane
Presentation Topics
Building the Business and Life of Your Dreams
It all starts here. You know exactly where you want to be. All you need is a path, and that's what this keynote is all about. I'll show you how I ran three businesses, a nonprofit, ran 22 miles before most wake up, fed the homeless, shot a documentary, spoke to inspire those less fortunate, made time for family, and gave back each day for 65 straight days using my computer and mobile hot spot.
In this presentation, I will teach you to quickly discover:
The one element that determines your ultimate success in business and life — and it's not money or skills or experience or even drive.
The three essential components of every successful entrepreneur and sales professional — and they have nothing to do with your clients or potential prospects.
Six common roadblocks that threaten to derail your career — and how to get past them quickly and painlessly.
Three critical financial considerations — get this right and money will no longer be an issue (and how freeing will THAT be?)
How to track your progress — and turn your tracking into a driving force!
The one question you must be asking yourself at every step — even if you do nothing else, this one step will have a profound effect.
Dream Bigger: What do You REALLY Want Out of Your Life?
Would it surprise you to learn that you are often our own worst enemy? If you're struggling to achieve phenomenal success, perhaps it's just that you're not reaching high enough, and this keynote is exactly what the doctor ordered.
A rock-solid business plan — even if you already have one, do not skip this step. It's the foundation of everything to come.
How to know you're on the right path — this one simple question will guide every step!
A beautiful case study on branding — when you nail your branding, you'll be truly unstoppable, and this business got it right!
How and why you must consider health in your overall business plan — and not just yours!
Four must-have business and life-manual elements —t his one step may someday save you from disaster.
How to save time, money and energy in everything you do — because you have far more important things to do than to waste time on boring, low-level tasks.
The essential difference between short- and long-term goals — and why you absolutely must have both if you want to be wildly successful.
Why it's critical to your success that you get out of the house — and run 3,000 miles for YOUR WHY!
Turn Those Dreams into Goals and Take the Hill!
It's fun to dream, but dreams don't get done. Before you can reach your dream destination, you first must transform your fantasies into actionable goals and take the hill!
How to "work backwards" from your big goal to the smallest task — just learning this one skill will dramatically multiply your success rate.
The question you must ask yourself — the answer may just be enough to turn your dreams into a powerful driving force.
How to handle a change of heart — even the most driven, passionate entrepreneurs and sales professionals can find themselves at a crossroads. Here's how to resolve it!
How to avoid letting fear of success derail your efforts — simply being able to recognize it for what it is can help (I'm going to show you how).
How to successfully assess and manage your risks — and how to know exactly what to be on the lookout for.
Six things to consider before you outsource — and how to start small so you don't create more chaos than you solve.
How to create and manage timesaving systems without hiring expensive companies to do it for you — for many new businesses, entrepreneurs, and sales professionals, this is exactly what's needed to reach their goals without breaking the bank.
Make it Happen: Be the Victor, Not the Victim
This is where the magic happens. You've turned your dreams into goals. You've created a plan. You've put the systems in place. All that remains is to execute. Unfortunately, this is where we often retreat or "Become the Victim."
Seven common pitfalls entrepreneurs and sales professionals face — and how to overcome them.
Why (and how) to prepare for success — skip this step and you'll be out of business before you even begin.
Why the wrong client is worse than no client at all — and how to attract your ideal customer with ease.
How to earn more income without doing more work — this is the key to ultimate freedom and a true dream life.
How to easily create new products — without re-inventing the wheel each time.
Six tips for working at home more efficiently — because it's harder than it looks.
Why accountability is critical — and some innovative ways to keep yourself on track.
How to prioritize your day so you can maximize your success — and the answer might just surprise you.
TShane Johnson Testimonials
TShane is one of the best inspirational and motivational speakers around because he has lived through the worst life had to offer and has not only saved himself but has prospered. Now, his mission is to show others, especially veterans and first responders who are experiencing tough times, a way out. He draws attention to his message by accomplishing Hike Across America (in this case, down the eastern coast) carrying a 100-pound pack. He is a hero among heroes.
Augustine Campana, President of Rotary Club, Lake Buena Vista, FL
It was an honor and privilege to interview TShane Johnson for The Inspire Cafe Podcast
His story is not only incredible, but he has so much inspiration and life lessons that we all can learn and take away. Talk about not only overcoming adversity but being a role model of how one person can create a great impact on our community. If you're ever looking for a great interview and an engaging speaker, please look no further. Thank you, TShane! Keep inspiring! –
Kathy De La Torre, Host of the Inspire Café Podcast
Shane came and shared with our group of foster boys about his life, journey and what motivates him. They were intrigued by his survival and encouraged to make better choices. Looking forward to him coming back again. He is a great speaker and definitely recommend him! –
Marcella Imbesi, Founder of "The Pink Bow Foundation
You will be amazed, inspired and fired up to do more, be more and enjoy life. –
Eileen Scates, Owner of Scates Realty
Shane is an amazing individual who motivates others to be their best. Shane leads by example and is now helping to transform lives across our country. I highly recommend Shane as a speaker for your next event!
David Cobly- President of Lake County Chamber of Commerce